4 of the Most Popular Charms Shop Guide(Useful)
Jun 01,2023 | isyoujewelry
Most people would like to choose charms jewelry as a gift or everyday accessory. Customized charms are what most people choose. Hearts are the most popular. Regular types is an evergreen and cannot be replaced. Which one is suitable for you? Continue Reading.
Contents
Customized charms

Regular Types( Beads & Pendants & Stoppers)

Heart charms

Special style
---
Part 1
Customized charms
What is customized?
Customized also call personalized. It means something to suit a particular individual or needs.
Personalized charms are mainly divided into three types Photo charms, Engraving Charms, and Name charms.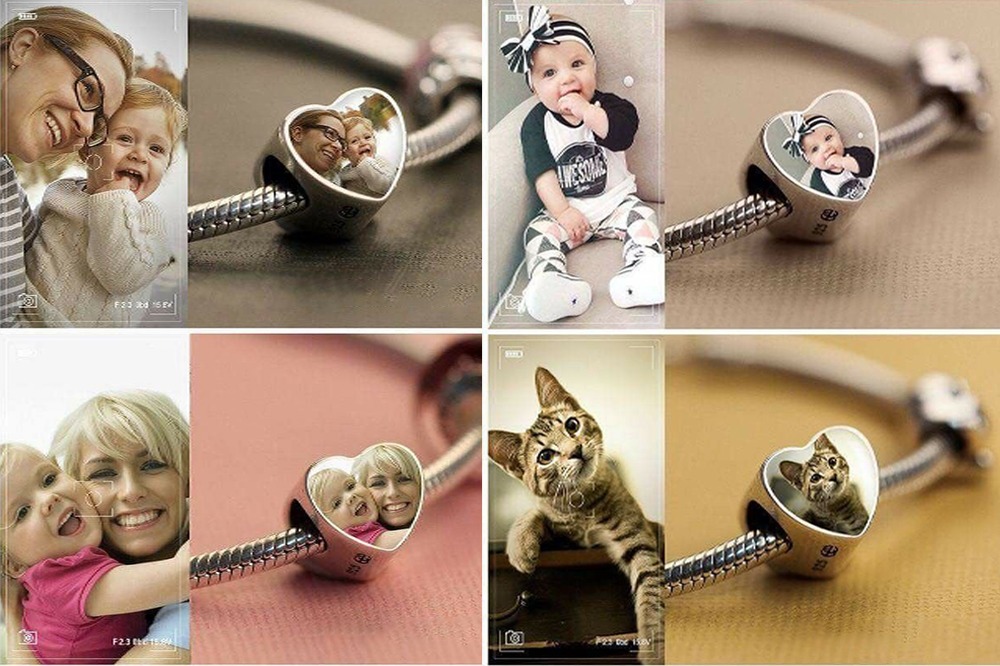 Photo charms
Photo charms are the most popular of those types. Many people will choose their favorite photo and engrave it on the charms. Those photos can be of your partner, your family, or even your pets.
I have one photo charm that engraves my cat. I wear it every day, it makes me feel like my cat always is with me.
Engraving charms
In the article, engraving charms means this charm only can engrave letters.
Besides photo charms, our clients also like engraving charms. And they always like to engrave some number, symbol, or character on it, such as 89531, JW, B♥V, which is meaningful text to them.
It is a good choice if you want to celebrate a memorable day, such as an anniversary, graduation day, or birthday.
Name charms
Name charms are always made of letters. it is easy to understand what is name charms, but there are some suggestions for you during selected your name charms. We highly recommend selecting within 6 letters charms to add to your chains so that you could add other charms, like flower charms, Animal charms etc.
Part 2
Regular Types( Beads & Pendants & Stoppers)
We've always known that charms come in many shapes, so it's hard to tell you all of them in a few words. However, we do have the following categories based on how they differ.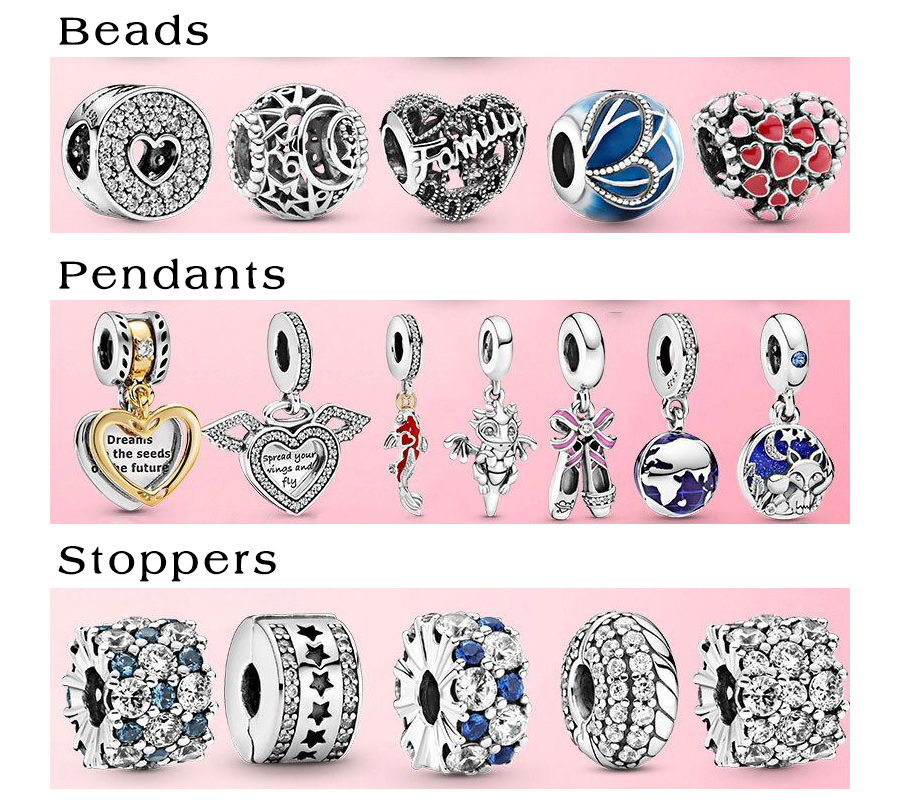 Beads
A bead is a small, decorative object that is formed in a variety of shapes and sizes of a material such as stone, shell, glass, or pearl and with a small hole for threading or stringing. In isyou jewelry, Beads range in size from under 5 millimetre (0.197 in) to over 1 centimetre (0.39 in) in diameter. Beads' hole range in size always from 4.3 millimetre (0.169 in) - 4.5 mm (0.177 in).The size of the hole is important, make sure the size matches your chain before buying.
Pendants:
A pendant is a hanging piece of jewelry, generally attached by a small loop. These loose-hanging shapes look more fashionable and unique. In addition, pendants can complement bracelets and necklaces, so it is more popular to use one thing for multiple purposes. If you are considering which one is better, pendants are one of the safe choices.
Most of the pendant's loops are easy to threading chains, so just be bold to select them. If you still worry about the size, just contact the customer support team.
Stoppers:
Stoppers play an important role in charm jewelry. In the beginning, stoppers were used to secure the beads and pendants to prevent them from moving during wear. In the next period, stoppers are going to be more beautiful and fashionable. Now it not only is a function piece but also a gorgeous decoration.
Tips: Make sure the hole for the charm will fit through your bracelet, necklace, and another chain.
Part 3
Heart charms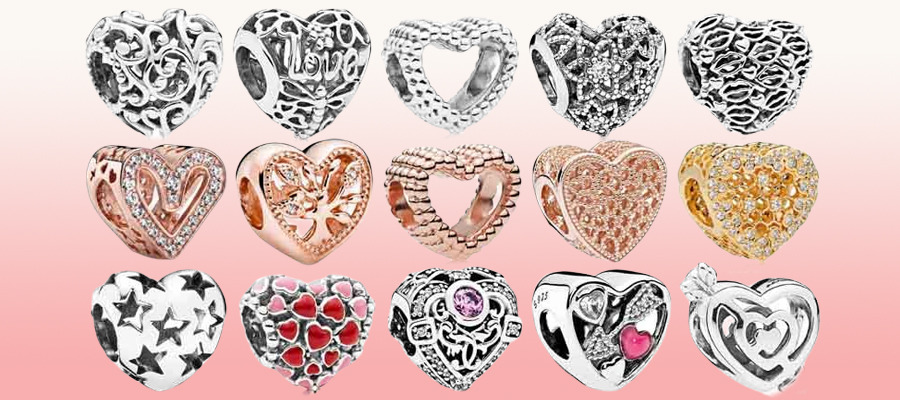 Heart shapes are popular with couples and families. Simple shapes can express their love. Inspired by this, the heart-shaped charm came into being. These heart charms add some element of nature, animal, or other to make them more exquisite.
Part 4
Special style
In addition to the above-mentioned types, some special styles are also worthy of attention, such as Fantastic Ocean, Majestic Unicorn, Birthstone, and Zodiac charms.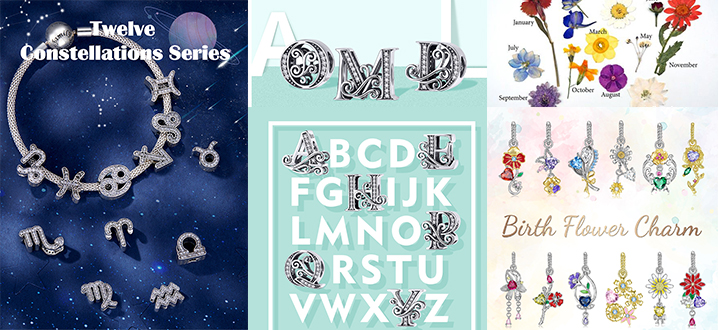 These charms have characteristics and can be selected and matched according to different scenarios. Here are some tips about wearing.
If you are a color lover, we would recommend you buy the colorful garden series.
If you are an astronomy enthusiast, we would recommend you buy the astronaut series or some 12 constellation series.
When purchasing, we strongly recommend that you purchase sterling silver material to avoid allergies to you.
In addition, if you are a charms addict, we recommend that you purchase a set to get more discounts.
Conclusion
In summary, this article is a useful guide for choosing charms for jewelry. It covers personalized charms like photo, engraving, and name charms, as well as regular types such as beads, pendants, and stoppers. Heart charms symbolize love, while special styles like Fantastic Ocean, Majestic Unicorn, Birthstone, and Zodiac charms offer unique options. This article helps readers make informed choices when selecting meaningful and stylish charms for their jewelry.
Hope this article can help you when selecting the charms. you find your loved charms
Comment